My big & only brother, Ben was married on the weekend. At 36, he is 7 years older than me. When we were little I remember him helping me get ready for bed and playing with me. As he grew older and far more cooler than seven years younger me, we weren't as close. In fact, we weren't really close until we were adults, which I'm sure is fairly typical of such a large age gap.
The turning point for our relationship was the illness and subsequent death of our father, Peter, in 2007. Suddenly it seemed as though something subconsciously clicked and my big brother was suddenly the Man of the Kendall Family. The loss of my father figure was eased ever so slightly by the caring role my brother took on.
Girlfriends came and went for Ben, and there was a few that seemed serious, but none were to last. The running joke with friends and family has always been that he would marry one of his best friends, Daniel or Craig.
Then in 2010, I called Ben when he was getting ready for a date. He'd been seeing a girl named Stacey, whom he met on E-Harmony.com. She was coming over to watch the NBA with him. I think that was when I picked that she might just be The One For Ben.
Together they seemed so happy. Team Smyth were overjoyed, as was everyone who encountered their special bond. When Millie was born Ben flew down for special cuddles and told us how much Stacey loves babies, and perhaps one day...?
In 2011 Ben and Stacey rang us early one morning from Rome. Ben had just knelt down by the Trevi Fountain and asked Stacey for her hand in marriage. She said yes. I cried on the highway on the way to work, just as I'm sniffling at the computer right now.
I honestly thought my brother may just be an eternal bachelor. He's a Young Professional (Kenny, I called you YOUNG!) who enjoys working high flying corporate jobs whilst travelling and cooking gourmet food. He is the most wonderful Uncle any little Millie/#2 Smyth/Kendall Baby could ask for. So on top of all of those things, the idea that he found a fantastic lady to marry was just the icing on the cake. That Ben did not bake, for he does not bake. Cook, yes. Bake, he used to use packet mixes. Blaspheme.
I got to meet Stacey merely hours before their wedding and she was even lovelier and even more gorgeous than I'd seen on Skype and in photos. And then, on the beach in QLD, I watched my brother stand at the end of a pier on a beautifully sunny day watching his beautiful Stacey walk down to meet him and become his wife, he her husband.
I always love watching grooms at weddings, especially when their beloved makes their way to meet them, and this was the most beautiful and touching moment I've ever witnessed at a wedding.
Their vows were sublime and hilarious - he promises to not eat her popcorn, and she promises to go to every Broncos game with him, and they fist pumped at the end. A perfect end to a perfect ceremony. And the reception was even more perfect.
So it really is true. All you need is love, and love is all you need.
How am I thankful for this? I'm ever so thankful that I have Mr S, and now I have seen my sister marry her gorgeous husband, and my brother marry his beautiful wife. Our circle is complete.
Linking up with Kate Says Stuff for Thankful Thursday.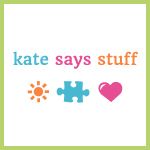 There are no pictures online as requested by the bride and groom. Perhaps once they've got their professional photos back they'll let us take a peek...